What do you know about your pet's teeth?
Does your pet have nasty teeth or icky "doggy breath"? Does your dog or cat have yellowish gunk on their teeth? Maybe it is time to see the friendly staff at the Akron Veterinary Clinic to discuss a dental exam and cleaning. Just like people, pets need dental care too, including periodic examinations and professional cleanings of their teeth. It is estimated that by the age of two, 80% of dogs and 70% of cats have some form of periodontal (tooth and gum) disease.Periodontal infections have been linked to diabetes, heart attacks, strokes, kidney disease and other life threatening disorders. Diseased teeth can cause pain when eating as well.
f your pet has a mouth resembling the one above on the right, visit us at the Akron Veterinary Clinic. We can perform a thorough dental exam, scale that nasty plaque off your dog or cat's teeth, extract any diseased teeth, and get your animal's smile clean and healthy again! We have recently purchased a brand new state of the art dental scaler and polisher to better serve your pet's dental needs! We also have the capabilities to perform some more advanced dental procedures as well. Call us at 712-568-2222 to set up your appointment today!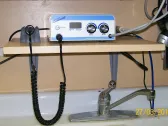 Our new Jorvet Dental Scaler/Polisher
We also recommend more regular dental care for your pet in between professional cleanings. This may include brushing your pet's teeth with a special veterinary toothpaste (regular human toothpaste can aggravate your animal's stomach), offering dental chews such as Greenies or C.E.T. VeggieDents, or feeding a special dog food such as Hill's t/d Canine Dental Health. These products are also available at the Akron Veterinary Clinic. If you have any other questions about your pet's dental health and keeping it's smile beautiful, give us a call at 712-568-2222 or stop by the clinic.